India seeks 22 attack helicopters
By Siva Govindasamy
India has begun a competition to procure 22 attack helicopters for its air force, in the latest in a series of tenders aimed at modernising the service by the middle of the next decade.
A request for proposals has been issued to seven companies, which now have three months to respond to the more than $500 million requirement. The air force hopes to sign a contract within two years and complete deliveries within a further three-year period.
"The Indian air force has been asking for new attack helicopters for some time and this contract will fulfil that," says the defence ministry. "The modernisation is a priority and we are doing all we can to expedite the process."
The tender is to replace New Delhi's ageing Mil Mi-35 fleets. Requirements include a twin-engined helicopter that is highly manoeuvrable, has anti-armour capabilities, and is able to deploy turret guns, rockets, air-to-air and air-to-ground missiles.
An ability to operate in all weather and terrain is also necessary, along with the use of an electronic warfare self-protection suite.
EADS and India's Defence Avionics Research Establishment will pursue the latter programme requirement, having jointly developed and tested a new missile warning system based on the European company's AAR-69 MILDS design.
Boeing has pushed its AH-64D Apache Longbow in India for some time, and says the design's "capabilities align with the Indian government's requirements." Eurocopter says it will put forward its Tiger, while observers also expect the AgustaWestland AW129, Bell AH-1Z SuperCobra, Kamov Ka-50 and Mil Mi-28 to be the other Western contenders. India's Hindustan Aeronautics could offer its Light Combat Helicopter, which is still under development, but scheduled to have its first flight by mid-year.
Separately, New Delhi is still finalising the details of a $1.5 billion tender for 384 light utility helicopters to replace the HAL Cheetah and Chetak, with an RFP to be issued, potentially in late June.
The army will get 259 helicopters and the air force 125, with 197 to be bought in fly-away condition and the rest licence-produced by AgustaWestland, Bell, Eurocopter, HAL and Kamov are the likely recipients.
India in late April received RFP responses from six bidders for its air force's $12 billion multirole combat aircraft requirement for 126 new fighters, and earlier this year ordered six Lockheed C-130J transports.
New Delhi is also close to confirming Boeing's P-8I Poseidon for a maritime patrol aircraft requirement and to finalising a deal for 80 new Mi-17-IV multirole helicopters.
It has also ordered additional HAL-produced Sukhoi Su-30MKI fighters, and will induct two squadrons of indigenous Tejas light combat aircraft from 2010.
A first group of Indian navy air crews will meanwhile start training in Russia later this month, before flying the service's first of 16 new RSK MiG-29K/KUB fighters from August.
India, China jostle for inin Indian Ocean
HAMBANTOTA, Sri Lanka (AP) — This battered harbor town on Sri Lanka's southern tip, with its scrawny men selling even scrawnier fish, seems an unlikely focus for an emerging international competition over energy supply routes that fuel much of the global economy.
An impoverished place still recovering from the devastation of the 2004 Indian Ocean tsunami, Hambantota has a desolate air, a sense of nowhereness, punctuated by the realization that looking south over the expanse of ocean, the next landfall is Antarctica.
But just over the horizon runs one of the world's great trade arteries, the shipping lanes where thousands of vessels carry oil from the Middle East and raw materials to Asia, returning with television sets, toys and sneakers for European consumers.
These tankers provide 80 percent of China's oil and 65 percent of India's — fuel desperately needed for the two countries' rapidly growing economies. Japan, too, is almost totally dependent on energy supplies shipped through the Indian Ocean.
Any disruption — from terrorism, piracy, natural disaster or war — could have devastating effects on these countries and, in an increasingly interdependent world, send ripples across the globe. When an unidentified ship attacked a Japanese oil tanker traveling through the Indian Ocean from South Korea to Saudi Arabia in April, the news sent oil prices to record highs.
For decades the world relied on the powerful U.S. Navy to protect this vital sea lane. But as India and China gain economic heft, they are moving to expand their control of the waterway, sparking a new — and potentially dangerous — rivalry between Asia's emerging giants.
China has given massive aid to Indian Ocean nations, signing friendship pacts, building ports in Pakistan and Bangladesh as well as Sri Lanka, and reportedly setting up a listening post on one of Myanmar's islands near the strategic Strait of Malacca.
Now, India is trying to parry China's moves. It beat out China for a port project in Myanmar. And, flush with cash from its expanding economy, India is beefing up its military, with the expansion seemingly aimed at China. Washington and, to a lesser extent, Tokyo are encouraging India's role as a counterweight to growing Chinese power.
Among China's latest moves is the billion dollar port its engineers are building in Sri Lanka, an island country just off India's southern coast.
The Chinese insist the Hambantota port is a purely commercial move, and by all appearances, it is. But some in India see ominous designs behind the project, while others in countries surrounding India like the idea. A 2004 Pentagon report called Beijing's effort to expand its presence in the region China's "string of pearls."
No one wants war, and relations between the two nations are now at their closest since a brief 1962 border war in which China quickly routed Indian forces. Last year, trade between India and China grew to $37 billion and their two armies conducted their first-ever joint military exercise.
Still, the Indians worry about China's growing influence.
"Each pearl in the string is a link in a chain of the Chinese maritime presence," India's navy chief, Adm. Sureesh Mehta, said in a speech in January, expressing concern that naval forces operating out of ports established by the Chinese could "take control over the world energy jugular."
"It is a pincer movement," said Rahul Bedi, a South Asia analyst with London-based Jane's Defense Weekly. "That, together with the slap India got in 1962, keeps them awake at night."
B. Raman, a hawkish, retired Indian intelligence official, expressed the fears of some Indians over the Chinese-built ports, saying he believes they'll be used as naval bases to control the area.
"We cannot take them at face value. We cannot assume their intentions are benign," said Raman.
But Zhao Gancheng, a South Asia expert at the Chinese government-backed Shanghai Institute for International Studies, says ports like Hambantota are strictly commercial ventures. And Sri Lanka says the new port will be a windfall for its impoverished southern region.
With Sri Lanka's proximity to the shipping lane already making it a hub for transshipping containers between Europe and Asia, the new port will boost the country's annual cargo handling capacity from 6 million containers to some 23 million, said Priyath Wickrama, deputy director of the Sri Lankan Ports Authority.
Wickrama said a new facility was needed since the main port in the capital Colombo has no room to expand and Trincomalee port in the Northeast is caught in the middle of Sri Lanka's civil war. Hambantota also will have factories onsite producing cement and fertilizer for export, he said.
Meanwhile, India is clearly gearing its military expansion toward China rather than its longtime foe, and India has set up listening stations in Mozambique and Madagascar, in part to monitor Chinese movements, Bedi noted. It also has an air base in Kazakhstan and a space monitoring post in Mongolia — both China's neighbors.
India has announced plans to have a fleet of aircraft carriers and nuclear submarines at sea in the next decade and recently tested nuclear-capable missiles that put China's major cities well in range. It is also reopening air force bases near the Chinese border.
Encouraging India's role as a counter to China, the U.S. has stepped up exercises with the Indian navy and last year sold it an American warship for the first time, the 17,000-ton amphibious transport dock USS Trenton. American defense contractors — shut out from the lucrative Indian market during the long Cold War — have been offering India's military everything from advanced fighter jets to anti-ship missiles.
"It is in our interest to develop this relationship," U.S. Defense Secretary Robert Gates said during a visit to New Delhi in February. "Just as it is in the Indians' interest."
Officially, China says it's not worried about India's military buildup or its closer ties with the U.S. However, foreign analysts believe China is deeply concerned by the possibility of a U.S.-Indian military alliance.
Ian Storey of the Institute of Southeast Asian Studies in Singapore said China sent strong diplomatic messages expressing opposition to a massive naval exercise India held last year with the U.S., Japan, Singapore and Australia. And Bedi, the Jane's analyst, added "those exercises rattled the Chinese."
India's 2007 defense budget was about $21.7 billion, up 7.8 percent from 2006. China said its 2008 military budget would jump 17.6 percent to some $59 billion, following a similar increase last year. The U.S. estimates China's actual defense spending may be much higher.
Like India, China is focusing heavily on its navy, building an increasingly sophisticated submarine fleet that could eventually be one of the world's largest.
While analysts believe China's military buildup is mostly focused on preventing U.S. intervention in any conflict with Taiwan, India is still likely to persist in efforts to catch up as China expands its influence in what is essentially India's backyard. Meanwhile, Sri Lankans — who have looked warily for centuries at vast India to the north — welcome the Chinese investment in their country.
"Our lives are going to change," said 62-year-old Jayasena Senanayake, who has seen business grow at his roadside food stall since construction began on the nearby port. "What China is doing for us is very good."
Associated Press Writer Christopher Bodeen contributed to this report from Beijing.
Defence leadership
Incentives required to attract talent
by Lt-Gen (retd) Harwant Singh
When the successive central pay commissions have finally created a crisis situation in the military, the RM has tried to find a solution, which is worse than the problem itself. However, it will eminently achieve the objective of taking the focus away from the current turmoil in the services and engage the military's headquarters in yet another wasteful and time-consuming exercise.
In the military each rank carries a certain degree of aura and authority and any dilution or serious alteration of this structure tends to upset the hierarchal system and response to command authority.
It matters little that a small state may have a large number of DGPs, even one for special enquiries and yet another for fire-fighting equipment and so on or in the IAS, financial commissioners for freedom fighters etc.
Such a system of downgradation may work in the civil, because there is no such thing as rank, which is specific only to the defence services. For the military it will be counter- productive, devalue the rank and adversely affect the working and delivery systems.
The military has been forced to look for patterns adopted by the civil services and the police merely because some contrived rank equivalence is being established with the civil, forsaking the earlier patterns.
A simple solution existed for close to a hundred years before partition, which linked status with pay, which, in turn, relates to length of service, and addition of rank pay and monetary compensation for the X factor and enhanced pension for early retirement etc. But now a new and perverse formulation is being thrust on the military.
The reason for the sustained absence of military leadership lay in the fact that there never has been a collective national security perspective and the existence of indifferent nature of governments and together they brought about military leadership deficit. Best minds never opted for the military.
The same formulation is on display when M.M. Pallam Raju, Minister of State for Defence, informs us that sainik schools are the nurseries to groom future armed forces officers. Earlier, the FM had allocated Rs 44 crore to these schools in his budget with the same mindset.
Surely the future leadership of the armed forces cannot come from the constricted and cloistered environments of sainik schools. The military's leadership in the 21st century has to be essentially a product of liberal university education with a strong science background.
The RM's new proposal is to have a cadre of short service commission officers, who serve for 14 years and then are discharged with a gratuity of Rs 2 lakh for every year of service and no pension. The sum of Rs 28 lakh, 14 years from now, will not buy a one-bed room apartment in a tier III city in a lower middle class colony!
The officer at the time of his release would be a Lt-Col in his mid-to-late thirties with all the attendant family commitments.
He would be about the same age at which a soldier is now being discharged with inadequate pension. Like the soldier, he will remain unemployed and frustrated.
Their frustration will deliver the final fatal blow to the Army's image because they will carry their rank into retirement.
When the existing offer of regular commission fails to draw the right material, how does the RM hope to attract suitable material for this hopelessly poor career on offer?
These are the officers who will be required to lead infantry companies, armoured squadrons etc into battle and are expected to be the cutting edge of the military.
Soldiering, unlike other professions, demands total commitment, involvement and dedication to the cause. One has to be highly motivated to motivate troops and be able to lead them into the very jaws of death.
Battles are invariably full of surprises and the unexpected. Military leaders have to be intelligent to quickly regain balance when surprised, master the unexpected, innovate and deliver, all under an environment of intense stress and danger.
The type that will be drawn by this short service commission of 14 years would fall short on these essential qualities.
Those who feel that by opening regular commission to women will meet the shortages in the officer cadre unwittingly project the view that women are available on the cheap!
Will a career that has become unattractive for men because of poor prospects, pay etc draw to it women of the right talents in droves?
There is no gainsaying that there is a need to recast the structure of officer cadre in the military and make it an attractive career, both in terms of promotion avenues and pay etc.
One possible solution is to have a regular cadre of 55 per cent and the balance 45 per cent made up by, 25 per cent short service (5 years,) 10 per cent from the ranks and the balance 10 per cent from those recruited direct into the JCO cadre.
Those from the ranks/direct JCO cadre should have a minimum service of six to eight years and be able to clear the services selection board before entry into the officer cadre.
A new cadre of direct recruitment into the JCO rank could be introduced with graduation as the minimum qualification. These JCOs would be able to handle a large range of administrative duties such as boards, unit audits, minor courts of inquiry etc and thus relieve unit officers for training of troops and upgradation of their skills.
The overall career prospects of the regular officers, which will form the core of the officer cadre, will remain reasonably bright.
Irrespective of the type of commission, there have to be adequate incentives to draw on the right material, both for regular and short service commission. Short service commission officers should have a training period of six months, followed by five years service with the units. Some out of these may seek regular commission.
On release from the Army a large range of avenues should be open to these short service commissioned officers. Those opting for an alternate career should be absorbed in Central police organisations, central services (after qualifying a written test,) PSUs etc. Their period of service with the military should be counted in their new careers.
Depending on qualifications and aptitude, some of them could be given free education in IIMs, IITs and hotel management institutions and law colleges etc against reserved seats with a substantial stipend.
Such a system will make short service attractive, draw on the right material and these officers will carry the work ethos, discipline and dedication of the military into other areas of civil life.
The above mix of regular commission, short service commission and those from JCO/ranks will, by and large, meet the aspirations of regular commissioned officers and as such draw on the right material both for the regular and short service commission.
However, it will take years before such a proposal can be implemented and its effect realised and, therefore, is no solution for the present turmoil in the services.
To overcome the existing frustration and shortages in the military, the service will have to be made attractive enough to attract the right material and to provide a degree of satisfaction to retain those already in service.
The RM by his proposal for 14 years short service commission has simply failed to grapple with the problem proper and instead is setting the military to chase a crooked shadow.n
Military power
Need to respond to new dynamics
by Premvir Das
For 60 years since India became a free nation, it has faced security concerns of many dimensions. Immediately after Independence came the war with Pakistan over intrusions in Kashmir. Then there was the war with China in 1962, another war in 1965 with Pakistan over the Kashmir valley, still again in 1971, this time resulting in the creation of Bangladesh and last but not the least, the 1999 conflict over Kargil.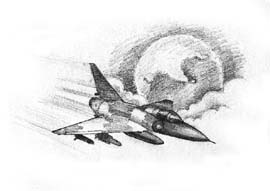 All of these have involved the use of India's military power against that of another nation state. Over the years, this capability has improved considerably. A fairly substantial military presence stretches across the land borders all the way from Rajasthan to the North-East.
Over this same period, there has been a threat of another dimension. In Nagaland, in Manipur and in Mizoram, there have been insurgent movements from the very beginning, some still ongoing.
The militants have received support from outside and also sanctuary, though access to both appear to have diminished in recent years.
In Jammu and Kashmir also, there has been insurgency since the 1980s, aided and abetted from across the border. In both cases, the Army has been actively involved in countering the insurgencies.
In the last decade, another security concern has arisen. The external intervention earlier confined to Jammu and Kashmir has now extended to the hinterland and this has manifested itself in acts of terrorism across the northern and central parts of the country with sponsoring groups receiving sanctuary in Pakistan, in Nepal and in Bangladesh.
To this should now be linked the escalating Naxalite violence across the states of Chhattisgarh, Jharkhand, Andhra Pradesh and Orissa.
The Army is not yet involved in coping with these emerging threats but they are, if anything, even more worrying. So if there is a sense that India's security concerns have become increasingly serious and complex, it is not without good reason.
At the same time, some things have begun to change. For one, India's economic power has grown greatly in the last 10 years and this, along with achievements in the field of information technology, has enhanced its stature internationally.
There is widespread recognition that in the next two decades, India will be among the three or four largest economies of the world and a major player in Asia along with China and Japan.
Its military, especially maritime, capabilities are also seen as the most credible of any regional power.
If we add to this mix the country's size, population and democratic profile, it will be apparent why the USA, countries of the European Union, Japan and others have begun to seek "strategic" relationships with us.
And, finally, the nuclear weapon capability, if not status, has been the proverbial icing on the cake. All of these have already distanced India from Pakistan and brought it, if not on a par, closer to the China equation.
On a different plane, the probability of nation state conflicts has receded. The Americans might lead a posse of the willing to try and enforce their interests in Iraq or Afghanistan and even these adventures may not be so easily feasible in times to come, but wars between nations like India and Pakistan are becoming improbable.
Even if a conflict breaks out, its duration will be severely restricted. For one, international interests of many will be affected adversely; for another, the nuclear uncertainty will come into play.
To this should be added the deterrent military posture on our part and dissuasive capability of the other. So while a well-structured armed force is still needed, it is unlikely to be called to action versus Pakistan.
As for China, while there is no doubt that the border dispute remains unresolved and that country's postures and policies are not entirely in consonance with our interests, a military confrontation appears improbable.
Our capabilities are much more credible than they were in earlier years and there is mutual recognition that any such conflict will act to the detriment of both. The nuclear environment is also no longer one sided.
Other forms of threats have now come to the forefront. These are not from nation states but from non- state actors who may or not be confined to just one country but stretch across many.
Terrorism, illegal trafficking of drugs, arms and people and possible proliferation of WMD are only a few of them. Threats to the safety of seaborne commerce, including of energy, is another potentially serious concern.
All of these have one thing in common: they cannot be countered by one country alone. The threats are trans-national and require interface between many countries, regionally and globally.
There is need for the sharing of actionable intelligence between several agencies within every country and between countries.
This, in turn, requires a great deal of mutual trust and confidence which can only come about through regular and frequent engagement between the enforcement agencies.
The joint exercises and patrols that India's maritime forces carry out with both regional and extra-regional countries in the Indian Ocean waters is one manifestation of that engagement.
To this should be added assistance during natural disasters like the tsunami of 2004. Our region has the highest incidence of such disasters and, as its largest littoral, we must be able to provide help across the Indian Ocean stretch.
The capabilities for doing so in 2004 were not sufficiently credible and have already been augmented; more needs to be done. These same resources will also be useful in coming to the aid of legitimate governments threatened by criminal elements in their own countries e.g. the Maldives in 1989.
In short, India's military power is no longer relevant only in the context of Pakistan or China. It has a much larger dimension in which countering threats from nation states is only one part.
Ability to ensure internal stability, wherewithal to deal with non-state actors and non-traditional threats and to provide assistance to littorals during natural disasters and other contingencies are equally important components.
India cannot shy away from its responsibilities as the pre-eminent regional power. It must play the lead role in arranging mechanisms for regional interface and cooperation and, generally, show that its power, in particular at sea, is credible.
More and more, with the passage of time, India will find itself being drawn into the regional, even global, arena. Postures and policies, force levels and structures which sufficed in earlier years, will no longer be adequate.
We must change our mindset and prepare for what lies ahead, rather than bask in the comfort of the times that were. Sad as it might be, they have, to borrow from Margaret Mitchell, Gone with the Wind.n
The writer is a former Director General, Defence Planning Staff
Army uniform dressing down from Antony
SUJAN DUTTA
(From left) Indian Army officers in ceremonial winter, summer and summer (while parading) uniforms
New Delhi, June 7: Defence minister A.K. Antony has given a dressing down to the official suppliers of army uniforms making the top brass happy and hopeful about dressing up the soldiery.
Antony told the ordnance factory board, the supplier of military clothing and equipment, yesterday that it must shore up its performance and tailor its products to the soldiers' demands.
Senior officers are now expecting Antony will spur the defence establishment into taking its proposals on outfitting a little more seriously. At the top of the list is the revival of a proposal to bring professional designers to fashion uniforms for soldiers who must be equipped for both the extreme cold to and the extreme heat of the desert.
Indian Army officers and soldiers have dress codes for almost every ceremonial occasion but it is in the regular line of duties that most of them find their uniforms uncomfortable.
In Siachen, the soldiers have complained that wind-proof jackets do not shield them from the icy gusts. In the desert, soldiers complained that sand and heat that their uniforms do not withstand can make them dehydrated.
And in the Northeast, the waterproof jackets leave them soaked to the skin. The upshot is that many soldiers and officers buy their uniforms from private dealers and not necessarily from the outlet of the ordnance factory board, the official supplier.
But most of all, the top brass complained, the distinctiveness of the Indian Army's uniform is fast vanishing with central and state police forces assigning to their personnel uniforms indistinguishable from the military's.
"Ensure that jawans in the difficult areas, where it is very cold or very hot, get the most comfortable clothes," Antony told the directors of the ordnance factory board. "The quality of a product ultimately depends on how satisfied the end-user (the soldier) is."
The unhappiness with the uniforms they get has also spawned a racket.
In July 2007, for example, a joint raid by the army and Jammu and Kashmir police in Leh, the headquarters of the 14 corps, found civilian dealers selling specialised clothing and equipment meant for soldiers in Siachen.
Another investigation found that 17,000 defective jackets were issued to troops on counter-insurgency duty in Jammu and Kashmir earlier this year.
With Antony now taking up cudgels on their behalf, senior army officials are hopeful that a proposal by the army's dress regulation committee to tie-up with the centres like the National Institute of Design or the National Institute of Fashion Technology will be taken up more seriously.
"A major problem is that the uniform is not uniform," a senior officers said, when quizzed about the proposal. "We say, for example, a disruptive pattern on camouflage dress but the patterns are different."
He meant that the combat fatigues worn by soldiers and officers have not been standardised. The model is the standardised pattern that soldiers wear when they go abroad for international meets.
Army officers buy their own uniforms while personnel below officer rank are given supplies according to the needs of terrain and weather periodically. The ordnance factory supplies the special duty uniforms — such as the disruptive-pattern overalls, wind and waterproof jackets and trousers and the coat parkas. The quality of these are wanting, the soldiers have complained, and do not allow for easy and quick movement.
The army brass hopes that with professional help on the quality of textile and stitching of the linings, much of these can be overcome.
State police, army talk Red terror
OUR CORRESPONDENT
Ranchi, June 7: Senior officers of the Indian Army and the state government today held a meeting to step up interaction with each other in the fight against Naxalite terror.
The meeting, held amid closed doors at the behest of the Union home ministry, discussed ways to extend training facilities for the police personnel. Though no formal decision was taken, today's meeting was likely to have a bearing in the way the anti-rebel operations are conducted in the near future in Jharkhand.
State director-general of police V.D. Ram said 24 companies of the state police had so far been trained by the army at the Ramgarh cantonment. "But, we want to ready 48 companies. And as the Ramgarh cantonment does not have the capacity to accommodate all, we requested Army commanders to arrange training facilities in other army establishments as well."
According to high level sources, today's meeting also discussed the changing nature of the Naxalite warfare using examples.
Though the senior army officials refused to get directly involved in anti-Naxalite operations, they promised all help to the police in terms of training and technical know-how.
"It is a civilian issue. It wouldn't be wise enough for us to involve ourselves directly. But, we firmly support the Jharkhand police to fight out Naxalism. We will train the police personnel in such a way that they achieve the army's efficiency in counter-insurgency operations," said Major-General Gautam Banerjee.
Ram, too, was happy with the deliberations. "We discussed wide ranging issues. Army officials gave us positive assurances. Let us hope for the best," he commented.
Apart from Madhya Bharat GoC Banerjee, among the other army man present at today's meeting was 23rd Infantry Division GoC A.K. Singh. From the government, apart from the director-general of police, chief secretary A.K. Basu and home secretary Sudhir Tripathi were also present.
During a review meeting with chief ministers of Naxalite-affected states, Union home minister Shivraj V. Patil had spoken of "proper co-ordination" with the Army and agreed to take up the issue with the Army.
The ministry had also constituted a task force under the leadership of special secretary (internal security), assisted by senior officials from intelligence agencies, central paramilitary forces and state police forces, to deliberate on the operational set-ups required to deal with Naxalite activities and bring about better co-ordination between various states.
2 Army officers seek relief
Tribune News Service
New Delhi, June 7
Two senior Army officers, who were given a "recordable censure", have applied for a review. Major-Gen D.S. Nehra, currently posted in Delhi as additional director-general of supply and transport, was posted at the Udhampur-based Northern Command last year when an inquiry was ordered over the supply of eggs to the Army.
The review will allow him to appear in promotional boards that are due in the coming months. He, along with 50 subordinate officers, was served a show-cause notice over the supply of substandard eggs to officers at the Northern Command. Another officer, Maj-Gen S.K. Malhotra was given "recordable censure" procurement in tent purchases in 2005- 2006.
Antony seeks comfortable gear for Army men
Tribune News Service
New Delhi, June 7
Defence minister A.K. Antony yesterday asked the Ordnance Factory Board (OFB) to ensure that the jawans, especially those deployed in areas of extreme weather conditions get the most comfortable clothes and gear.
Reviewing the performance of the OFB here, Antony said the best parameter of the quality of a product ultimately depends on how satisfied the end user is. He asked the top officials of the OFB to consistently improve the skills at all levels of their organisation through training in order to survive in the emerging scenario.
Antony said the public sector organisation should accept the new market environment as an opportunity to have a more critical look within and take appropriate steps to be competitive not only in the domestic sphere but also worldwide.
621 IMA cadets pass out
Umesh Dewan
Tribune News Service
Dehra Dun, June 7
With trio of the Army Aviation Corps choppers showering flower petals, 621 cadets crossed the 'Antim Pagh' (final step) to the Chetwode Hall to become officers at an impressive passing out parade ceremony held at the prestigious Indian Military Academy, here today. In Army tradition, the passing out parade unfolded the ceremonial turn out of the outgoing cadets, reviewed by chief of Air Staff Air Chief Marshal Fali Homi Major, among other well decorated defence personnel.
From total of 621 gentlemen cadets, 409 were from the regular course, while 32 from technical graduates course, 14 from SCO, 77 from TES, 76 from UES and 13 from friendly foreign countries. Of the newly-commissioned officers, 8 were from Bhutan, two each from Mauritius and Nepal and one form Kazakhstan.
In his address to the newly commissioned officers, Fali Homi Major said, "Today you have entered the finest and noblest profession of military leadership." The three qualities - honour, character and competence are "absolutely essential" for the officers, Homi said.
The parents of the commissioned officers shared their proud moment at the pipping ceremony by pinning up the stars on their shoulders. The oath taking ceremony was held in the presence of the Reviewing Officer and Commandant of the IMA.
Meanwhile, senior Under Officer Rudra Pratap Singh Rana has won the "Sword of Honour" and the silver medal. The gold and bronze medal was won by Academy Under Officer Vaibhav Sinha and Battalion Under Officer Ajeev Ranjeev Mathews, respectively. The technical graduate course silver medal was awarded to junior Under Officer Kanishka Singh Siwach, while TES silver medal went to Wing Cadet Quartermaster Rahul Yadev. The chief of the Army Staff's Banner was awarded to Basanter Company.
Truce along LoC violated again
Shariq Majeed
Tribune News Service
Poonch, June 7
The Pakistani troops yet again allegedly violated the four-year-old ceasefire after they resorted to unprovoked and indiscriminate firing from across the Line of Control (LoC) in the Salhotri area in Mendhar sector here late last evening. However, Pakistan has not yet responded to the allegations of violating truce.
Defence sources said the first violation of ceasefire by the Pakistani troops was reported in the Salhotri area of this frontier district at 4 pm that continued till 6 pm, but the Indian Army maintained restraint and did not retaliate. They added that at 8 pm when Pakistani troops resorted to heavy machinegun fire towards the Indian posts, the Indian troops retaliated and forced the Pakistani troops to silence their guns. However, no loss of life was reported from the Indian side.
This is the fourth incident of ceasefire violation within last one month in the state by the Pakistani army, which resorted to firing on the Indian positions on May 19 in the Nangi Tekri area in Mendhar sector (wherein an Army jawan was killed), then on May 8 and May 13 in Samba and Tanghdhar sectors, respectively.
A local Army officer confirmed that the incident was a clear-cut case of ceasefire violation. "The Pakistani troops resorted to indiscriminate and unprovoked firing on us from across the LoC. This is a clear case of ceasefire violation and they (Pakistani troops) have yet again broken our trust," he said. He further added that it seemed to be an apparent attempt to push trained militants into this side.