Osama bin Laden dead, Obama announces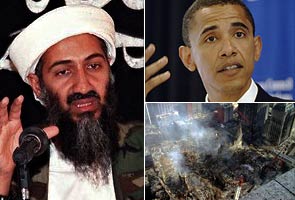 Washington:
Osama bin Laden has been killed in Islamabad by US forces, the US President Barack Obama announced today.
In a historic moment, Obama described the war against Al Qaeda over the last 10 years since 9/11, he described events over the last few weeks when acting on specific intelligence, Obama said he ordered that Osama's place of hiding in Pakistan be stormed and he be killed.
That happened, he said in a joint US forces operation on Sunday. A small team of Americans carried out the attack and took custody of bin Laden's remains, the president said Sunday in the dramatic late-night statement at the White House.
Obama said he had spoken to Pakistan President Asif Ali Zardari.
Media reports said Osama was killed outside mansion in Islamabad.
Osama bin Laden, the world's most wanted terrorist ever, was the mastermind behind the 9/11 attacks on the US which left 3000 people dead.
Read more at:
http://www.ndtv.com/article/world/osama-bin-laden-dead-obama-announces-102741?cp